Itel Vision 1 Price in India
Though there are plenty of brands in India even in 4G category, there are very few which one can simply pick when it comes to smartphone aorund price range of Rs. 5,000.
Among these select brands is Itel which has few good models in this category and now has launched Itel Vision 1 which one can buy for effective price of less than Rs. 3,299 if you with Reliance Jio offer (https://www.jio.com/en-in/jio-itel-a25-vision1-cashback-and-additional-data-offer-2020). Though the official price of Itel Vision 1 is Rs. 5,499 by simply buying from its official site (https://www.itel-mobile.com/in/products/smart-phone/vision-1/) users will get free wireless headset worth Rs. 799 and hence effectively paying Rs. 4,700 for the smartphone (compare with Itel SelfiePro S41).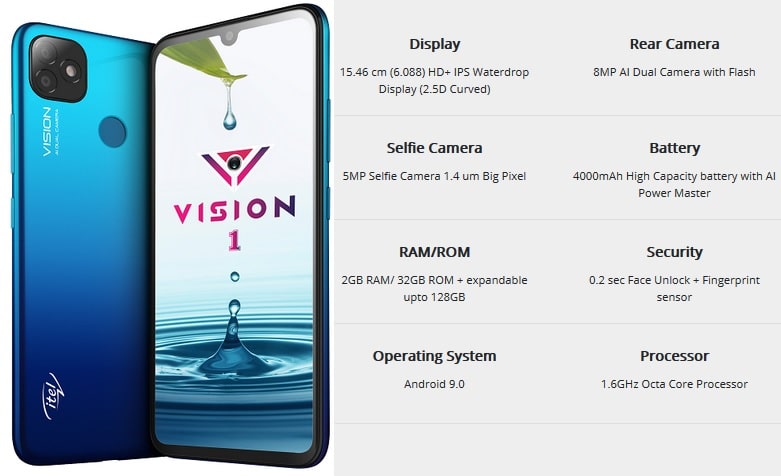 The current smartphone Itel Vision 1 is first in the Vision series from the company and with Jio partnership coming up with good offer shall see good demand in the market. In terms of features quality also, Itel smartphone Vision 1 truly justifies its price level. In terms of design also, one would not feel let down from its look also.
One interesting thing to note in Itel Vision 1 among its quality features list is presence of AI on dual rear end camera, selfie camera and also in the battery. This is normally not seen in models in this price range and Itel model Vision 1 is going to be the first such device (check out Itel it2172 model).
With screen size of 6.088 inch, the new smartphone Itel Vision 1 comes with water drop notch which reassure its good design in good form. The model AI Power master boosts 4,000 mAh battery performance up to 24 hours. Having 32GB of inbuilt storage is quite good but if there is no it can go up to 128GB with microSD card.
After factoring in discounts and free offers especially from Reliance Jio, Itel Vision 1 price in India even now is quite attractive.
Itel Vision 1 Features list
6.088 inch screen with water drop notch
1560×720 HD+ resolution
2GB RAM
32GB ROM
4000 mAh battery
4G, VoLTE support
5MP AI powered selfie camera
8MP dual camera with AI at rear end
0.2 sec fast finger print scanner
Face scanner
Premium gradient color
Source: Itel Vision 1 official site, Specs of Vision 1 and Reliance Jio Itel Visio 1 offer