Itel it5260 Price in India
There is scarcity of new models in the feature phone segment in India and it would remain so in the coming days also.
Few days we had seen Nokia 5310 after a long gap and now there is one more feature phone coming up for Indian users i.e. Itel it5260. Right now its available in Philippines and soon one may expect in India also. Expected to be available in the price level of Rs. 9,99 the Itel it5260 is slightly different than normal models due to voice assistant and other features (compare with Itel it2172).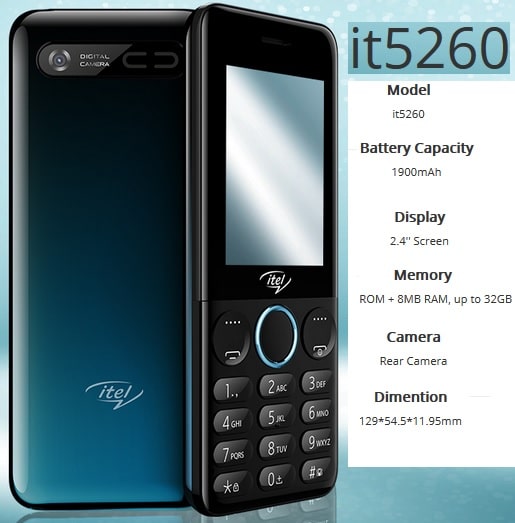 One would be very familiar with voice assistant especially on Google search but the similar feature is available on Itel it5260 also in the form of King voice. Rather than typing messages, one can simply speak on this and you will get message typed for you. For the incoming calls also, Itel it5260 can read the incoming number for you and hence no need to look at the handset to check.
The new model has been powered with 1,900 mAh battery which gives stand by time of up to 40 days. With 2.4 inch screen, Itel it5260 is a normal feature phone in other aspects. On the back side, there is digital camera also. The design of the model is also quite appealing and 11.95mm thickness makes it slightly on odd side of portability.
The official site of Itel it5260 have indicated 8MB of RAM and ROM both with expandable memory up to 32GB. Other features like FM radio with may be wireless option, 2G and 3G network and dual SIM option may also be there on this phone.
The expected Itel it5260 price in India is just Rs. 9,99.
Itel it5260 Features list
2.4 inch screen
voice assistant
1,900 mAh battery
digital camera
dimensions: 129*54.5*11.95mm
8MB RAM
8MB ROM
32GB expandable memory
Source: Via