Infinix S5 Pro Price in India
There are few brands in Indian market which are not so popular but their smartphone models have a particular demand. Infinix is one such brand which has been able to bring better screen and camera quality at very affordable price. Though there is step back in other features, models like Infinix S5 have seen good reviews so far 2019. Now the company is ready to roll out its successor Infinix S5 Pro in India at an expected price of less than Rs. 10,000.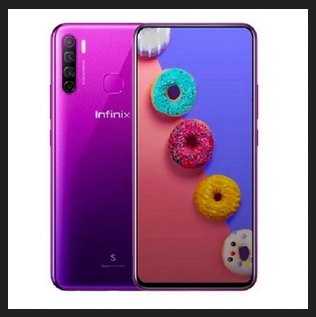 The upcoming model Infinix S5 Pro is going to be very competitive for users who need pop up selfie camera as this is quite stylish way also to take selfies. If some one is comparing at models in less than or around Rs. 10,000 with pop up selfie camera, Infinix S5 Pro would be one of the best pick.
There is no information as yet on the features quality of Infinix S5 Pro but what its predecessor has, one can expect at least 6.6 inch screen and 20:9 aspect ratio. This indicate much better space on the screen for display and hence enhanced performance.
On the camera front, Infinix S5 was powered with 16MP main camera on rear end along with 2MP depth and 2MP sensor camera and but the current model Infinix S5 Pro shall have some improvement over it. Also we expect better than 16MP selfie camera in Infinix S5 Pro to make it stand out from its competitors in India.
The base model S5 was powered with 4GB RAM and 64GB ROM which if comes in Infinix S5 Pro, shall be considered as an average configuration. The launch of Infinix S5 Pro is confirmed for February 2020 and lets hope it comes in expected price level only.
We will post latest information on Infinix S5 Pro price in India 2020 here.
Infinix S5 Pro Features list (expected)
Pop up selfie camera
6.6 inch screen
4GB RAM
64GB ROM
Tripple camera set on rear side
At least 4,000 mAh battery
4G LTE
20:9 or better aspect ratio