LG G8X ThinQ Price in India
What is so special about dual screen smartphone model is they do away with problems of flip models. These models comes with free hinge which has better application than a flip smartphone. LG G8X ThinQ dual screen launched in India at affordable price of Rs. 49,999 brings much more than a normal smartphone. This model is more for customers of high end category but with unique model in mind.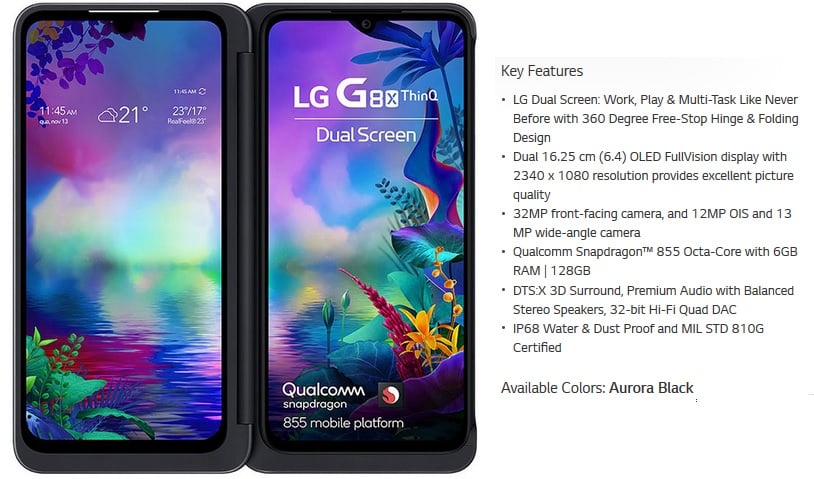 There is not many models from LG which are in the top selling category and hence having a niche model like LG G8X ThinQ in India makes good sense. Not only its design of double screen makes it more portable but also more convenient to work and have fun at better speed. The price of LG G8X ThinQ smartphone in India at Rs. 49,999 may look at on higher side but for its target segment its quite reasonable.
There is long list of quality features which are quite top end in LG G8X ThinQ model. Certainly this is more in line with what a model of this price range shall carry on. LG model G8X ThinQ has 6.4 inch OLED FullVision display screen in two side i.e. dual design. With 360 degree free hinge support, one can carry on multi tasking for official purpose quite seamlessly on LG G8X ThinQ in India.
The dual screen model LG G8X ThinQ will find good appeal among women in professional segment in India also as it is both stylish and portable. Not many model one can count on in this category if one excludes flip models. Motorola was one of the few popular brand with flip models but it has also almost given up.
Users of LG G8X ThinQ on one hand can take exception quality videos with 12MP OIS and 13MP wide angle camera to cover wider resolution with better quality. In terms of playing mobiles games, this smartphone is more towards consoles type experience.
Since there is festival season coming up, LG G8X ThinQ price in India may be coming out with discount in January month of 2020 itself.
6.4 inch dual screen
OLED FullVision display
360 degree hinge free rotation
IP68 dust and water proof
32MP front end camera
12MP OIS and 13MP wide angle camera
Aurora black color model
Premium audio quality
Qualcomm Snapdragon™ 855 Octa-Core processor
6GB RAM
128GB ROM
Highly efficient for multi tasking