LG L555DL Price in India
As we have stated in earlier articles, the coming days are going to be very exciting and not lack lusture like January 2020 first fortnight. In the coming days we could see two exciting models from LG which are going to be for entry and mid level users in India and other countries like US where they will make their first entry. These two LG models for 2020 are LG L455DL and LG L555DL both of which will have quite similarities. Yesterday we reported arrival of Samsung Galaxy M31 which is also meant to target same consumer segment i.e. entry and mid level.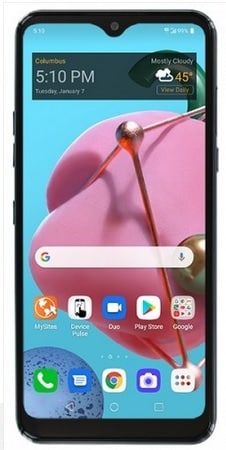 There is one leaked image of LG L555DL which appeared on Twitter from Evan Blass which has given birth to all the rumors. One has to be little careful in giving credibility to such information from private Twitter handles (also read LG W20 smartphone).
One feature which one can see from image of LG L555DL is water drop notch on screen. The screen size looks like medium one only and so is the quality of display. Some people has guessed LG L555DL would carry Android 9.0 OS which is one indication why it shall not be high end price segment.
Also the screen of LG L555DL smartphone seems to have good bezel on the bottom which means its not designed as per the latest trend in the market. Once more renders of LG L555DL comes out, we will get better clarity on other features like screen size, camera, RAM, processor and battery etc.
Information on LG L555DL price in India is yet to be there. The company is going to launch LG G8X ThinQ in India in 2020 also.