Xiaomi Redmi K30 Pro Price in India 2020
It is quite natural the new models in mid price segment in even are coming up prepared for 5G network even for markets which will take some time to get into next network. Xiaomi is all set to complete its Xiaomi Redmi K series model now with the news coming up for Xiaomi Redmi K30 Pro model which has given up to 50% better test score (3300 over 2200)over Snapdragon 855 models in multi score test and one would find it very suitable for 5G network services.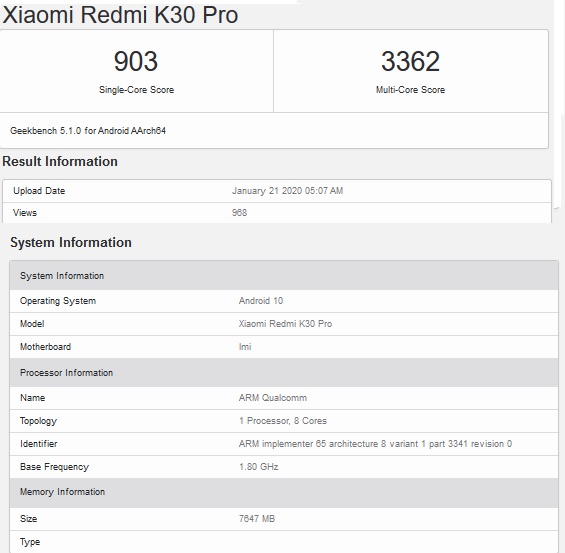 In individual score test, Xiaomi Redmi K30 Pro with Snapdragon scored 900 as compared to 500 in models with Snapdragon 855 and hence giving a massive 80% better result which will give very new level of performance. Its only the countries like US where it is more sensible to have 5G model and hence its no surprise when Xiaomi Redmi K30 Pro appeared on Geekbench few days back.
So far we had seen Xiaomi Redmi K20, Xiaomi Redmi K20 and Xiaomi Redmi K30 models and only missing link was Xiaomi Redmi K30 Pro which will come down more likely in the month of February 2020. After that next in line in the K series shall be Xiaomi Redmi K40. Since the company has already announced POCO as separate brand, it is quite likely POCO X2 model will not arrive at very same time of K30 Pro. Both these models are for high end users basically.
Few more details on features of Xiaomi Redmi K30 Pro has emerged on Geekbench which include 8GB RAM and Android 10 OS. Both of these are quite important other than processor to make a smartphone fit for 5G level performance. Lets see what comes as final Xiaomi Redmi K30 Pro price in India 2020 which we do not expect to go much far over K30 price range i.e. around Rs. 17,000.
Xiaomi Redmi K30 Pro Features list (including expected)
6.67 inch screen
8GB RAM
Android 10 OS
256GB ROM
4,500 mAh battery
Qualcomm Snapdragon 865 SoC
5G support
In display finger print scanner
Quad set camera
Dual selfie camera
Source: Redmi K30 Pro at Geekbench