Xiaomi Watch Color 2 Price in India
One interesting thing about the monikers of smartwatch from some of the Chinese players is that its very simple. Few days we reported on Huawei Smartwatch D and now one more is coming from Xiaomi in 2 days i.e. on September 27th, 2021. We are talking about Xiaomi Watch Color 2 which is clearly has better features over Color model in terms of dial styles and longer battery life. It is expected Xiaomi Watch Color 2 price in India will be Rs. 7,999 and may get into the market in October 2021 (compare with price of Xiaomi Watch S2 Pro in India in 2023).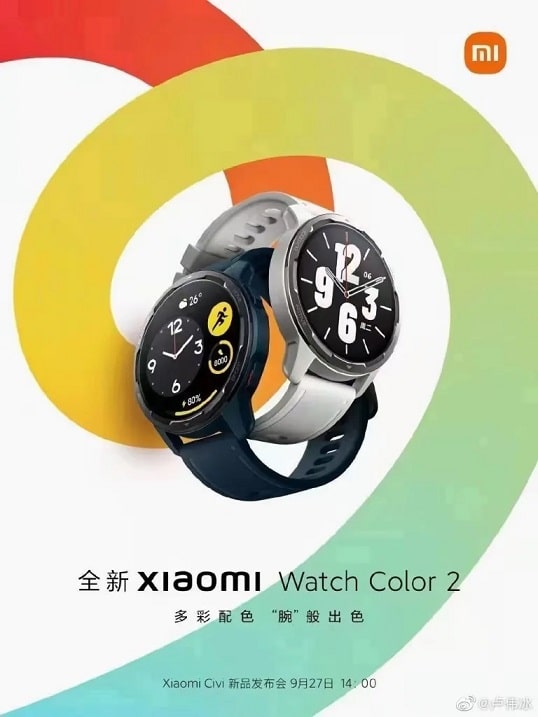 It has been little more than one and half years back when Xiaomi came up with Xiaomi Watch Color in the market and lot has changed since than especially in the competition side. This has been well factored by the company in the current model Xiaomi Watch Color 2 which has come out with improved features list. The same can be seen in teaser leaked out on Weibo (compare with Xiaomi Watch H1 price and features in India).
In the starting model, there were 110 online dials only but Xiaomi Watch Color 2 has 200 which almost 80% higher. The current model is set to carry battery with run time capacity of more than 14 days. In the connectivity side we would see NFC here as well.
Since there is much demand for health related applications in smart watches, Xiaomi Watch Color 2 will have heart rate monitor, energy measuring meter and also blood pressure measurement app. The official launch event on Sept 27th from Xiaomi will also be an occasion to bring Xiaomi Civi series of smartphone for 5G network.
Soon we will update latest information on Xiaomi Watch Color 2 price for Indian market and its expected launch time.