Meizu 17 Pro 5G Price in India 2020
In the 5G space consumers will have plenty of models in different features combinations to choose from with in same brand also based on their usability and affordability.
Chinese player Meizu is coming out with two 5G models at same time i.e base model Meizu 17 5G and slightly better model Meizu 17 Pro 5G in May 2020 probably. There is watermark shared for Meizu 17 Pro 5G which gives good indications on its features and display quality also. In India, Meizu 17 Pro 5G price will be in mid range around Rs. 21,999.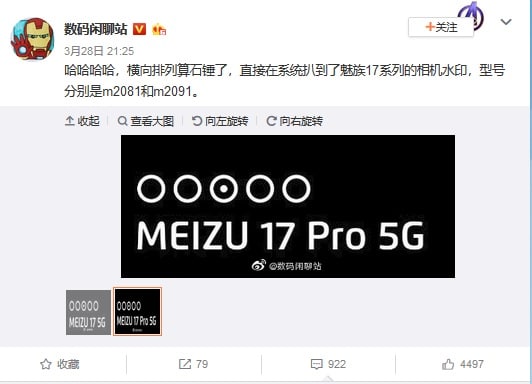 The leaked watermark images of Meizu 17 Pro 5G on Weibo shows the model carrying 4 set of cameras on the rear end along with LED flash in the center. Normally we see camera set up in vertical rectangle or square placed in one to two rows but Meizu 17 Pro 5G has in horizontal row in single line. Meizu 17 5G has 3 cameras in similar layout pattern.
Also there is change in Meizu 17 Pro 5G the way LED flash is placed as it has it in the center of cameras. Normally models carry it in sides after camera but here it is different and if that has any usability purpose also, we will get to know with the course of time only (compare with Meizu 16 Pro).
There has been reports on display design of Meizu 17 Pro 5G indicating it will have punch hole for selfie camera. In the processor side, the model will have Snapdragon 865 5G and Android 10 OS. One can also expect 8GB RAM and 256GB ROM in the model with wireless charging.
Features like selfie camera, rear end camera scale, battery, screen size for Meizu 17 Pro 5G are yet to come out.
Soon we will post information on Meizu 17 Pro 5G 2020 price in India and its official launch date also.