Huawei MediaPad M5 Price in India
In recent times we have model series having jump in their model names means if there model 3 and then successor comes as 5 without any trace of 4. Some time there is real reason behind absence of one model but some time its just part of fashion.
In coming days, users in US would get their hands on successor of Huawei MediaPad M3 which is not going to be M4 but straight forward to Huawei MediaPad M5. Certainly there are features improvement keeping in mind trend and also new version of OS which one would get to enjoy here.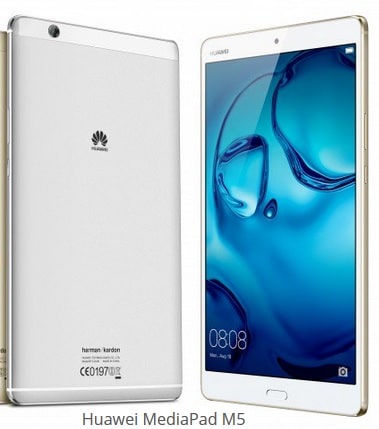 Though Huawei MediaPad model M3 is there in the market, seems like its not being sold in India. Once the latest model hits in coming months, Huawei MediaPad M5 price in India may come around Rs. 19,000. However one shall not give too much emphasis on this till the point full range of features of Huawei MediaPad M5 are out.
Lets get back to the listing of Huawei MediaPad M5 on US FCC which have given a sneak peek in some of the features as well. The model will have Android 8.0 with EMUI 6.0 interface. One key aspect of this pad will be 4,980 mAh battery which seems quite long lasting and shall be one too.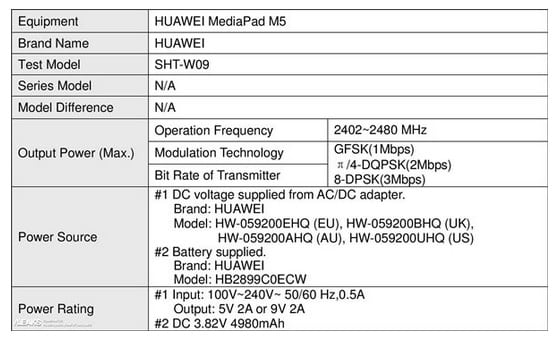 Also Huawei MediaPad M5 seems to be carrying finger print scanner on the back side means its little early in arrival if one has to expect under display kind of thing. Its has very metallic body which is quite nice in look and strong in strength too. There is SIM slot on the right side of the body on the latest model (also read Huawei MediaPad 7 Lite).
Huawei MediaPad M5 has front and rear end camera but the rear one shooter is shifted much towards left side. In terms of screen, it will carry same 8.4 inch with 2560×1600 pixel resolution. For processing, there is Kirin 960 chipset and we are waiting for RAM and storage specifications to get better view on performance.
Lets hope launch of Huawei MediaPad M5 in 2018 happens with little gap from its launch in US market. Keep revisiting for final Huawei MediaPad M5 price in India in 2018.
Huawei MediaPad M5 Features list India
8.4 inch screen
Rear camera on left side
Front camera
4,980 mAh battery
Kirin 960 chipset
Android 8.0 Oreo
EMUI 6.0 user interface
metallic body